Fall is the perfect time of year to take out the motorcycle for a ride along a scenic route. The leaves start to change colors, and temperatures aren't as scorching as they are during the summer months in Texas.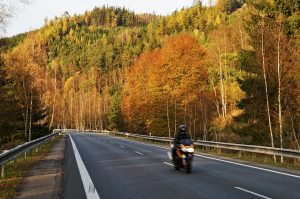 Commuting to school, work, or riding out of town can be an enjoyable experience for motorcyclists. However, there are some dangers during autumn you might not have encountered during the previous months. You could face various hazards that increase the risk of an accident.
Fortunately, there are some precautions you can take while preparing to take your motorcycle out on the road for the first time. You should also follow certain safety procedures for the additional rides you take during the fall. The tips below could keep you safe and prevent a traumatic accident resulting in injuries and death.
Maintenance and Repairs
Some areas of Texas are blisteringly hot during the summer. It's not an ideal time of year to ride your motorcycle. If your bike has been sitting in the garage or driveway for the last couple of months, it might be time for routine maintenance.
Your motorcycle could have some issues that cause it to malfunction while using it. It's crucial to inspect the vehicle thoroughly to ensure it's in good working condition. Check the fluid levels, fill the bike with gas, and put more air in the tires if they look deflated. It's also a good idea to look at all the parts and systems and test them to ensure they're working correctly.
If a manufacturer recalled one of the parts on your motorcycle, replace it promptly. You should also address any damage you find and repair it immediately. Riding a bike with recalled or defective parts could have disastrous consequences. The engine could stall, the brakes could fail, or another mechanical issue could cause you to lose control.
Check the Weather Forecast
Whenever you plan to spend time outside with friends or family, you probably check the weather first. You want to make sure it's not going to rain during your pool party or outdoor barbeque. The same preparations should apply whenever you want to ride your motorcycle.
Although you might think a little rain won't cause any problems, it could create slick roads, causing your bike to slide on the pavement. Thunderstorms can bring strong winds, heavy rainfall, and lightning strikes, placing you at risk of serious harm. Without the same protections afforded to car and truck drivers, you're at the mercy of the environmental factors you encounter.
Dress Appropriately for the Ride
Traffic-related accidents happen every day. Unfortunately, there isn't much you can do to avoid ending up on a collision course with a reckless driver. However, you can take the necessary steps to protect yourself from significant physical injuries if you wear the right clothes.
Many motorcyclists have a false sense of safety when traveling around the neighborhood or on a deserted road. You might think you won't get hurt, but a short trip can become life-threatening if you hit your head on the hard pavement, tumble down an embankment, or end up in a lake.
You should always wear a helmet, even if you're only riding somewhere a few miles away. Wear comfortable clothing but make sure it's not too loose. It's also a good idea to wear comfortable shoes. If you're trying to ride while wearing flip-flops, your foot could slip, causing you to lose control and crash into a tree or nearby vehicle.
If you plan on riding your motorcycle at night, wear bright colors or reflective tape. Put lights on your bike, so other drivers can see you in the dark. If you wear all black, it will be more challenging for approaching motorists to see and proceed with caution around you.
Be on the Lookout for Hazards
When autumn arrives, that means the leaves start to fall off the trees. Piles of leaves in the middle of the road can create a slippery surface for your motorcycle. They can also hide dangerous debris, such as tree branches, potholes, and additional hazards.
If you're riding under a tree after significant rainfall, a wet leaf could fall and stick to your visor, impairing your vision of your surroundings.
The fall season also brings an increase in traffic. People return home from vacation, and kids go back to school, meaning more vehicles are around while you ride your motorcycle on the roads. Cars, trucks, and other motorcyclists can become obstacles for you to navigate around, especially if a motorist drifts into your lane, stops without warning, or otherwise behaves recklessly.
Always remain alert when you're riding near other drivers. If you see someone speeding or weaving in and out of traffic, try to maintain your distance so you can avoid becoming a casualty of their misconduct if they cause an accident.
Contact Us
If you suffered injuries in a motorcycle accident due to someone else's negligent actions, do not hesitate to contact the Law Office of William Jang, PLLC. An experienced and dedicated personal injury accident attorney could represent you in your case and help fight for the justice and maximum compensation you deserve. Call us now at (512) 323-2333.