What Not to Say to an Insurance Adjuster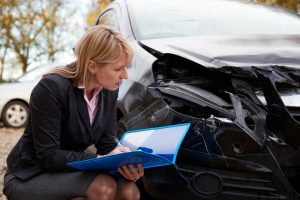 Since someone else caused your injuries in a car crash, you can pursue compensation to cover your losses. It's your right to do so. In the meantime, you want to be sure that you don't do anything to hurt your potential personal injury claim.
Being injured in an accident isn't something anyone is prepared for. So, after an accident, it's understandable that you likely don't know what to do. After all, you're dealing with pain and emotional trauma from the injuries you sustained in the accident. You're worried about your well-being and how your injuries could impact you for the rest of your life. Your focus should be on recovering from your injuries as best you can.
While you're focused on your recovery, the at-fault party's insurance company may already be trying to contact you. You must be careful about communicating with the insurance company. There are certain statements that you might make or phrases that you might inadvertently say to an insurance company representative that could end up hurting your claim.
What is an insurance adjuster?
Insurance adjusters work for the insurance company and investigate and process personal injury claims that are filed by injured parties against their policyholders. An important fact to remember is that the insurance adjuster isn't there to help you with your claim. It's not their job to ensure that you're fairly compensated for your injuries. The insurance adjuster's job is to benefit their employer, the insurance company, by saving the company money. To do this, an insurance adjuster will try to offer you the least amount of compensation possible to resolve your claim.
The insurance adjuster could use your words to reduce the amount of money they would have to pay you to settle your claim. You might be wondering, "how could something I say lead to my compensation being reduced or my claim being denied outright?" In Texas, there's a law called proportionate responsibility. This law states that if you were more than 50 percent at fault for the accident, you can't obtain compensation for your injuries. Furthermore, if you were less than 50 percent at fault for the accident, your compensation is reduced by the same percentage as your fault. That means that if you're entitled to $100,000 and were 25 percent at fault for the accident, your maximum compensation would be $75,000.
If you were involved in a car accident, the Austin Auto Accident Attorneys at Law Office of William Jang, PLLC can help you properly prepare for your case. Fill out the online form to contact us immediately for an initial consultation.
Why You Have to Be Careful What You Say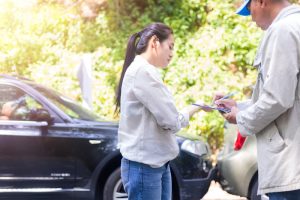 If you bump into someone in the store, you might apologize to them while they're simultaneously apologizing to you. It's likely an automatic response when something happens by accident. So when you're injured in an accident, you may not think twice about voicing your regret that it happened. Of course, you wish the accident never happened because it resulted in you being seriously injured.
Some phrases that you, as an injured party, might use when contacted by an insurance adjuster could be music to their ears. If you speak to an insurance adjuster, you should refrain from making any of the following statements:
"I'm Sorry."
But if you tell the adjuster you're "sorry," it could hurt your ability to recover compensation for your injuries. The word "sorry" or a similar statement could be interpreted by the insurance adjuster as if you accept accountability for the accident. Accountability can be the same as fault in a personal injury case. If the insurance adjuster can argue that you accepted some level of fault for the accident, they can use that as evidence to reduce or eliminate the compensation you may be owed.
"I Don't Know What Happened."
Saying that you don't know what happened leading up to the accident and your injuries could be viewed by the insurance adjuster as you being inattentive when the accident happened. Distraction or inattentiveness, particularly in car accidents, is a form of negligence. The insurance adjuster could claim that this admission by you is evidence of your negligence or fault in causing the accident.
"Yes, You Can Record My Statement."
One way to prevent an insurance adjuster from using your words against you is to not allow them to record your conversation with them. When an insurance adjuster contacts you after an accident, they'll typically ask if they can record your statement and any answers to their questions on a recorded line. It is 100 percent your choice to deny them permission to record your statement. Just tell the adjuster politely that you can't talk to them without your attorney present, and then call us.
Contact the Law Office of William Jang, PLLC
Never speak to an insurance adjuster after a car or motorcycle accident without first speaking to an attorney.
The Austin auto accident attorneys of the Law Office of William Jang, PLLC can help you with your personal injury case. Our passionate attorneys are dedicated to helping you pursue fair compensation for your injuries. Call us at (512) 323-2333 or contact us online to schedule a consultation.